Mixing the Audio
Learn how all the final components of the audio are mixed together.
Mixing the Audio
Developed by Jason Tomaric, FilmSkills
ABOUT THIS LESSON
Throughout the audio post-production process, each department - dialogue, Foley, sound effects, and music generate tens of thousands of individual sounds across hundreds of track. All of these sounds need to be mixed together into a single soundtrack - whether it's a stereo track for broadcast, a 5.1 mix, or a 10.1 theatrical mix. This process is called mixing the audio, and it happens on a dubbing stage. In this module, we're going to explore the dubbing process and how all these audio elements get mixed together to create the sonic experience for the audience.
31:18 video that takes you through the process of mixing the audio
Illustrated Companion Guide
WHAT YOU WILL LEARN
How to create pre-dubs of each sound stem
How the individual sound elements must be prepared
The function of the dub stage
Who is present at the final dub
The scheduling and budgeting process for the sound mix process
Techniques for balancing dialogue, sound effects, and music
Output options for the final mix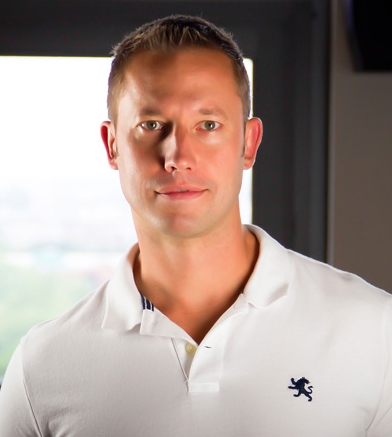 Jason Tomaric
Director, Cinematographer
Los Angeles, California
Jason J. Tomaric is an Emmy, Telly, and CINE Award-winning director and cinematographer of four internationally-distributed feature films, dozens of national television commercials, music videos, and the largest film training content library in the world, published author of 8 books - used in many top universities, and creator of AccuSkills.com, an industry-changing learning management platform.
Jason has worked in Los Angeles and around the world in over 20 countries. His clients include Disney, NBC/Universal, National Geographic, McDonald's, Toyota, Scion, Microsoft, and Paul Mitchell, with narrative work screened at Sundance, Slamdance, and South by Southwest film festivals as well as on Netflix and on all broadcast networks.

Jason has taught and/or guest lectured at some of the nation's most prestigious film schools including UCLA, Columbia College, John Carroll University, Kent State University, San Francisco State, University of Notre Dame, and numerous film festivals.
Jason has written eight industry-defining books, all sold in bookstores, and used in film schools around the world. The American Society of Cinematographers hails Jason's books - "There are no wasted words in Tomaric's tome, which concisely summarizes each facet of the director's craft. It's difficult to think of a step in the process that Tomaric fails to address."
Jason's DVD training series on Hollywood film production have trained filmmakers in over 40 countries, with distributors in Europe, Hong Kong, New York and Australia.
In 2010, Jason launched FilmSkills, which combines the world's largest film training video library with his proprietary learning management system. Adopted by 47 universities within the first year, FilmSkills is now the leading industry-standard training solution for motion picture and television production.
In 2015, Jason launched AccuSkills.com, an industry-changing learning management platform that bridges the gap between academia and industry.
CONTRIBUTORS TO THIS LESSON

Cindy Marty
Emmy-nominated Sound Effects Editor, "Titanic," "Die Hard," "Superbad," "Groundhog Day," and "Bridesmaids;" Winner of Golden Reel Award for Titanic
Cindy Marty has been an Sound Editor since 1985 for Sony Pictures Entertainment. Today her sound editing has be nominated for an Emmy and has won the Gold Reel award for her work on Titanic.
Ms. Marty's pictures, include: Anchorman 2, Bridesmaids, Step Brothers, Forgetting Sarah Marshall, Knocked Up, Something's Gotta Give, Pearl Harbor, As Good As It Gets, Titanic, and Die Hard.

Frank Salvino
Post-Production Supervisor, "The Grey," "I am Sam," "Little Children," and "17 Again"
Frank Salvino graduated the University of Kentucky with a BA in Telecommunications and was the VP of feature post-production for New Line Cinema for nine years.
More recently he has served as the post-production supervisor for The Grey, starring Liam Neeson, I Am Sam, starring Sean Penn and Michelle Pfeiffer, and Little Children with Kate Winslet and Jennifer Connelly.

Kevin Kaska
Composer, Orchestrator "The Dark Knight," "Inception," "Man of Steel," "Anchorman 2," "The Lone Ranger," "Life of Pi," "Battleship," "Transformers: Dark of the Moon"
American composer, arranger, record producer, and conductor, Kevin Kaska is one of America's leading young musical talents. His orchestral compositions, arrangements, and orchestrations have been played by over 50 symphony orchestras worldwide, including John Williams and Keith Lockhart with theBoston Pops Orchestra, Saint Louis Symphony, London Symphony Orchestra (five CDs), Royal Scottish National Orchestra (recorded on CD),New Zealand Symphony Orchestra (recorded on CD), Maynard Ferguson and his Big Bop Nouveau Band, Skitch Henderson and the New York Popsat Carnegie Hall.
In 2012 Kevin Kaska orchestrated music on the Academey Award winning film score Life of Pi. Film composer John Debney asked Kaska to orchestrate his music into a 70 minute concert choral symphony based on the themes he wrote for the Mel Gibson film, The Passion of the Christ (Academy Award nominated score). Kevin Kaska also orchestrates for film composer Hans Zimmer, including The Dark Knight and The Dark Knight Rises.
Kevin Kaska is one of the few musicians to hold a Guiness Book of World Records. The World Harp Congress commissioned Kaska for a work that was premiered with the largest harp ensemble in recorded history. Kaska conducted the concert of 232 harps in Amsterdam, July, 2008.
His work includes: Inception, The Amazing Spider-Man 2, Sherlock Holmes 1 & 2, ParaNorman, Savages, Step Brothers, the 2012 Oscars, and the mini-series The Pacific.

Steven Saltzman
Music Editor, "Ghost Rider," "The Preacher's Wife," "Movie 43," "Priest"
Music Editor & Composer Steven Saltzman has a diverse musical background. His education includes a Bachelors of Music Degree in composition and film scoring from Berklee College of Music in Boston. He also studied composition with Boston Conservatory composer, John Hess, and continued to study composition and orchestration with Dr. Albert Harris, as well as attended the BMI Film Scoring workshop with Earl Hagan.
While on the East coast Mr. Saltzman composed music for WGBH and ABC Television, animated films, a variety of commercials as well as for the theatre in Boston. Steven eventually moved to California to pursue his dream of working in Hollywood scoring motion pictures. There he composed the score for numerous independent films, commercials and syndicated television shows.
Steven has composed the music for The Chicken From Outerspace, an Academy of Motion Pictures Arts and Sciences Award of Merit animation film. He has worked with various composers including Klaus Badelt, Nathan Furst, Mark Mothersbaugh, J.A.C. Jaview Navarette, Redford, Larry Groupé, and Ernest Troost. Steven has also been awarded three Golden Reel Award Nominations and a 2005 Golden Reel Award for his music editing.
His work includes:Priest, Seven Days In Utopia, Straw Dogs, The Hole, The Answer Man, Dragonball: Evolution, WAR, Inc., The King of California, Strange Wilderness

Tomlison Holman
Academy-Award winning inventor of THX, Director of Audio at Apple
Tomlinson Holman is an audio engineer whose Tom Holman eXperiment evolved into the THX sound certification system, which uses numerous criteria to ensure that sound mixed for motion pictures is faithfully reproduced in movie theaters. First introduced in 1983 and named for Holman's initials and his then-boss George Lucas's first film, THX 1138, THX technology is now used in major playhouses, sound mixing studios, and advanced home and auto sound systems. Holman is also the developer of the 10.2 surround sound system, and co-founder of TMH Corporation and Surround Professional magazine. He designed the technical infrastructure of Lucas's Skywalker Ranch and Skywalker Sound post-production facility.

Vanessa Theme Ament
Foley Artist, "Die Hard," "Edward Scissorhands," "Predator;" Author of "The Foley Grail," Nominated for 2001 Golden Reel Award
Vanessa Ament was born in Glendale, California, and raised in the central coast county of San Luis Obispo. She grew up the granddaughter of the early film pioneer Earl L. McMurtrie. Vanessa was a singer and dancer in her youth and performed in many plays and cabaret shows. At Whittier College, she earned a B.A. in Theatre, and after graduation, worked for the Glendale Regional Arts Council as an "Artist-in-the-Schools" in the field of theatre. She "fell" into the work of a Foley Artist by mistake when she auditioned to replace a voice for a film and her accurate sync caught the attention of the mixer, Robert Deschaine and the manager of Gomillion Sound James L. Honore. She started training as a Foley Artist at Gomillion, thinking it would be "a good gig between acting and singing jobs."
This fill-in job became her primary career for over twenty years. Along the way, she began voice casting and acting, Foley and ADR editing, and writing and singing her own songs in the L.A. cabaret and jazz scene. In her thirties, Vanessa earned an M.Div. as a Unitarian Universalist at Starr King School for the Ministry, in Berkeley. Vanessa has always loved teaching, and had various stints as a Sound Supervisor for students at AFI and USC, as well as an educator at various schools and colleges, including Cuesta College, in San Luis Obispo, as well as both DePaul University and Columbia College in Chicago. Vanessa has been a member of MPSE, CAS, BMI, AFM, SAG, Equity, Society of Composers and Lyricists, Women in Film, and The Academy of Television Arts and Sciences. She has won three Golden Reel Certificates for Foley for the films The Dollmaker (1984), Predator (1987), and Die Hard (1988), and has had several nominations for other films.
Vanessa has been featured at film festivals, sound festivals and in various publications. From the mid-1980s to the mid-1990s, she published MovieSound Newsletter. Music is Vanessa's true calling and she released her first CD in 2004. The most challenging thing Vanessa ever did, other than keep the faith that "work would come," was home school her son for seven years.