Blocking Actors
Learn how to block the actors, what story cues to look for, how to drive the blocking emotionally, and how to work with the actors to get the best physical performance possible.
Blocking Actors
Developed by Jason Tomaric, FilmSkills
ABOUT THIS LESSON
Blocking is the physical movement of the actors relative to the camera, and it's the director's job to ensure a performance feels natural within the technical limitations of the set. When blocking is done without authenticity it can come across fake, and amateurish.

In this module, you will learn how to block the actors, what story cues to look for, how to drive the blocking emotionally, and how to work with the actors to get the best performance possible.
Correct blocking is essential to the story, to the characters, and to the audience but achieving all of that while balancing scheduling and budgeting restrictions is where a truly gifted director shines.
34:22 video taking you through the blocking process

Illustrated companion guide

Floorplans of the sets on "Castle"

Adobe Illustrator template for blocking actors, camera and lighting on set
WHAT YOU WILL LEARN
How to determine why the actor moves
How to determine where the actor moves
How to determine when the actor moves
How to determine how the actor moves
Macroblocking vs. microblocking
How to block depth in the frame
How to use floorplans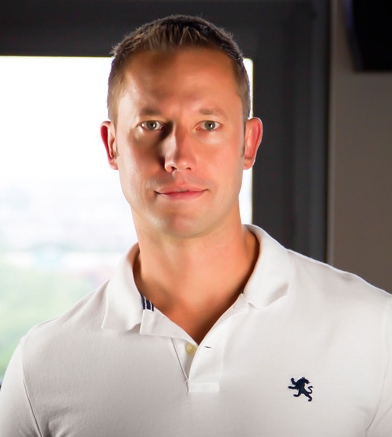 Jason Tomaric
Director, Cinematographer
Los Angeles, California
Jason J. Tomaric is an Emmy, Telly, and CINE Award-winning director and cinematographer of four internationally-distributed feature films, dozens of national television commercials, music videos, and the largest film training content library in the world, published author of 8 books - used in many top universities, and creator of AccuSkills.com, an industry-changing learning management platform.
Jason has worked in Los Angeles and around the world in over 20 countries. His clients include Disney, NBC/Universal, National Geographic, McDonald's, Toyota, Scion, Microsoft, and Paul Mitchell, with narrative work screened at Sundance, Slamdance, and South by Southwest film festivals as well as on Netflix and on all broadcast networks.

Jason has taught and/or guest lectured at some of the nation's most prestigious film schools including UCLA, Columbia College, John Carroll University, Kent State University, San Francisco State, University of Notre Dame, and numerous film festivals.
Jason has written eight industry-defining books, all sold in bookstores, and used in film schools around the world. The American Society of Cinematographers hails Jason's books - "There are no wasted words in Tomaric's tome, which concisely summarizes each facet of the director's craft. It's difficult to think of a step in the process that Tomaric fails to address."
Jason's DVD training series on Hollywood film production have trained filmmakers in over 40 countries, with distributors in Europe, Hong Kong, New York and Australia.
In 2010, Jason launched FilmSkills, which combines the world's largest film training video library with his proprietary learning management system. Adopted by 47 universities within the first year, FilmSkills is now the leading industry-standard training solution for motion picture and television production.
In 2015, Jason launched AccuSkills.com, an industry-changing learning management platform that bridges the gap between academia and industry.
CONTRIBUTORS TO THIS LESSON

Andrew Davis
Director: "The Fugitive," "Code of Silence," "Chain Reaction," "Collateral Damage," and "The Guardian"
Born on the south side of Chicago, Illinois, Davis has directed several films using Chicago as a backdrop. He is the son of actor Nathan Davis and Metta Davis and the brother of musician Richard "Richie" Peter Davis co-founder of the cover band Chicago Catz and Jo Ellen Friedman.
After attending Harand Camp of the Theater Arts and Bowen High School, Davis went on to study journalism at the University of Illinois at Urbana-Champaign. It was not long before his interest in civil rights and anti-war issues converged with his growing interest in film-making. Davis was mentored by acclaimed cinematographer Haskell Wexler with whom he worked on Medium Cool and began his film career as a cameraman on blaxploitation films like The Hit Man, Cool Breeze and The Slams in the 1970s.
His first feature film as a director was the semi-biographical story, Stony Island. Davis has gone on to direct such films as The Fugitive, Under Siege, Above the Law (both starring Steven Segal), Code of Silence, Holes, The Package and The Guardian.
Davis also directed the cutscenes for the videogame Splinter Cell: Chaos Theory.

Angela Nicholas
Lifetime Member of The Actors Studio, Actor, "Deadwood," "Washed," "Always Faithful," and "No Sunlight"
Angela Nicholas knew she wanted to be an actress from the age of 5 after watching Gene Kelly perform. After high school she moved to New York to study at the Gene Frankel Theatre and New York University.
Ms. Nicholas is a lifetime member of The Actors Studio and has been in over 20 film productions, and over 10 television shows, including, the Golden Globe winning Deadwood.

Bethany Rooney
Critically acclaimed Director, "Brothers and Sisters", "Grey's Anatomy", "Desperate Housewives", and "Private Practice"
In an environment where less than ten percent of dramas on television are directed by women, Bethany Rooney has enjoyed a long and esteemed career. She has directed over one hundred and fifty episodes of prime-time network shows, including Grey's Anatomy, Desperate Housewives, Brothers and Sisters, and Private Practice. For cable television, she has directed In Plain Sight, Weeds, and Drop Dead Diva. She began her directing career on the 1980's iconic television show, St. Elsewhere, where she had served as associate producer.
She has also directed eight television movies, including three Danielle Steel adaptations for NBC. Her movies have earned reviews such as the following from Variety: "Bethany Rooney's sensitive direction makes for some vivid and understated moments," and the Hollywood Reporter noted her "carefully paced and involving direction (featuring) magnificent acting." She has directed Oscar winners and contenders Denzel Washington, Hilary Swank, Mary Tyler Moore, Angela Bassett, George Clooney, Alfre Woodard, Felicity Huffman, Sally Field, and Robert Downey Jr., among many others. She is also the author of The Director Tells the Story.

Dan Riffel
Gaffer, "Iron Man", "G.I. Joe," "Hancock," "Spiderman 3," "Mr. & Mrs. Smith" and "Charlie's Angels"
Dan is a Los Angeles-based gaffer with numerous A-list credits including Battleship, Cowboys and Aliens, Iron Man 1 & 2, G.I. Joe, The Mummy, Hancock, Live Free or Dir Harder, Mr. and Mrs. Smith, Spider Man 2 & 3, Charlie's Angels, and many more.

David Stump, ASC
Academy Award and Emmy-winning cinematographer, "A Quantum of Solace", "Flight Plan", "Fantastic Four", and "X-Men"
David Stump, ASC, works on numerous motion pictures and television productions as Director of Photography, as Visual Effects Director of Photography and as a Visual Effects Supervisor, garnering Emmy nominations and an Academy Award for Scientific and Technical Achievement for Camera Data Capture Techniques. His credits include such projects as James Bond 22 A Quantum of Solace, Flight Plan, Fantastic Four, X-Men 1 & 2, Into the Blue, Garfield, Panic Room, Deep Blue Sea, Batman Forever, Hollow Man, Men of Honor, Stuart Little, The Sphere, Contact, Batman & Robin, Mars Attacks, Executive Decision, Stargate, Free Willy, and What Love Is, among others.
A member of the Producer's Guild of America (PGA), the Visual Effects Society (VES), the Society of Motion Picture & Television Engineers (SMPTE), the Academy of Motion Picture Arts and Sciences (AMPAS), and the Academy of Television Arts & Sciences (ATAS), Stump has been involved in Digital Visual Effects for over 20 years, since the advent of Computer Generated Images for film. He has also been involved in shooting High Definition images for many years and has been an advisor and consultant to numerous HD camera manufacturers. In 2001 he was accepted for full membership into the American Society of Cinematographers, where he is currently chairman of the Camera Subcommittee of the ASC Technical Committee. His work there helps to shape the future of digital cinematography, by bringing together working cinematographers with the builders of their tools. He is currently working on a book that will demystify digital and high definition cinematography.


Jason J. Tomaric
Emmy-winning director/Cinematographer
Jason J.Tomaric is a multiple Emmy, Telly and CINE Award-winning director and cinematographer. With four feature films, sixty commercials, music videos and an educational DVD series on the market, Jason's approach to filmmaking has made for a successful, fulfilling career. Jason has worked in over 20 countries as a director and has taught at some of the nation's most prestigious film schools including UCLA and the New York Film Academy. Jason's book, "Filmmaking"(Focal Press) is available in bookstores worldwide.
Jason is also the creator of FilmSkills.

Mary Lou Belli
Emmy-winning Director, "Monk," "Charles in Charge," "The Hughleys", and "Major Dad"
Mary Lou Belli is an Emmy Award winning producer, writer, and director as well as the author of three books. Most recently she directed Monk starring Emmy award winner Tony Shalhoub and The Wizards of Waverly Place on the Disney Channel. Last season on the CW she directed The Game, the spinoff to Girlfriends, a series Mary Lou directed for 7 consecutive seasons. She directed the pilot of the Web series 3Way, winner of 2 Logo awards and the AfterEllen.com 2008 Visibility Award. With over 100 episodes to her credit, Mary Lou directed Living with Fran starring Fran Drescher, Misconceptions starring Jane Leeves, and Eve starring hip hop artist Eve, as well as The Hughleys, Charles in Charge, Major Dad, and Sister, Sister. Mary Lou received BET nominations for directing Girlfriends and One on One as well as a Prism Award for Girlfriends.
After receiving a BA in theatre from Penn State, Mary Lou acted in musical theatre and soaps in New York, followed by a Los Angeles career producing and directing theatre with over 75 play productions to her credit. She lectures frequently throughout the United States including many universities such as AFI, NYU, Northwestern, and UConn.
She is the co-author of three books: The Director Tells the Story, The Sitcom Career Book, Acting for Young Actors. She has been a judge for the Miss America Outstanding Teen Pageant, a lecturer at the Chautauqua Institute, and a panelist for Women In Film, the DGA, SAG, and AFTRA. She's judged the California Independent Film Festival, the Sapporo Short Film Festival in Japan, and CSU Media Arts Fest.
She lives in Los Angeles with her husband and two teenage children….all actors!

Randal Kleiser
Director, "Grease," "Blue Lagoon," "Flight of the Navigator," "Getting It Right," "Lovewrecked" and "It's My Party"
Randal Kleiser's first feature Grease is the most successful movie musical ever made. Other credits include The Blue Lagoon, The Boy in the Plastic Bubble, Summer Lovers, Flight of the Navigator, White Fang, North Shore, Getting It Right, Lovewrecked and It's My Party.
In 2007, his USC Thesis film Peege was selected by the Library of Congress to be added to the National Registry. Working in 70mm 3-D, he directed Honey, I Shrunk the Audience, which has been running for over a decade at the Disney Parks in Anaheim, Orlando, Tokyo, and Paris.
This led to the US Government signing him to develop a 360 degree hi-def simulator to train soldiers to deal with Improvised Explosive Devices in the current war in Afghanistan.
With George Lucas, he recently released a 2 DVD set, "USC School of Cinematic Arts presents the Nina Foch Course for Filmmakers and Actors".
In 2010 he was elected to the Science and Technology Committee of the Academy of Motion Picture Arts and Sciences.

Rob Bowman
Four-time Emmy Nominated Director, "The X-Files," and Executive Producer, "Castle"
Rob Bowman has produced and/or directed episodes of nearly 40 television series and movies and films for the cinema. He earned four consecutive Emmy nominations for The X-Files. A short list of his diverse credits includes the television series StarTrek: The Next Generation, Parker Lewis, The A-Team and Castle.

Steve Zuckerman
Director, "Everybody Loves Raymond," "Full House," "Golden Girls," "Friends," and "According to Jim"
Steve Zuckerman is an American television director. Since 1987, He has amassed a number television credits including Full House, The Golden Girls, Murphy Brown, Empty Nest, Friends, The Drew Carey Show, Everybody Loves Raymond, According to Jim and among other series.

He began his career in theater and went on to direct the play Unexpected Tenderness in 1994.